Please be advised that this site is not optimized for use with Microsoft Internet Explorer 6.
Your story begins here.
We know you've worked hard for this opportunity and we value that. That's why we're committed to investing in you early on in your career and supporting your growth and development from the start. You'll have extensive on-the-job training and exposure to senior leaders, as well as more traditional learning opportunities in both a structured classroom and virtual setting.
You'll find interns and graduates throughout Citi – and they're all helping us make progress happen. At Citi, you'll do work that has a real positive impact in the communities where we live and work. As one of the world's most global banks, we proudly offer the best experiences for our clients and employees in Asia Pacific (APAC) and around the world.
Ready to join us? Take a look at our regional offerings to learn more, attend an event to hear what it's like to be part of the Citi team, or search for available student and graduate opportunities in APAC. We can't wait to meet you.
---
Why Join Citi Asia Pacific
In the Lens of Digital & Technology

Learn from some of our APAC Digital & Technology leaders on how Citi continues to evolve its digital and technology capabilities to serve our clients better.

Watch Now >

In the Lens of Diversity & Inclusion

Hear from some of our APAC Leaders on how Diversity & Inclusion plays an integral role in Citi.

Watch Now >

In the Lens of Corporate Social Responsibility

Learn from some of our APAC leaders on how Corporate Social Responsibility is upheld across the communities we serve in the region.

Watch Now >
---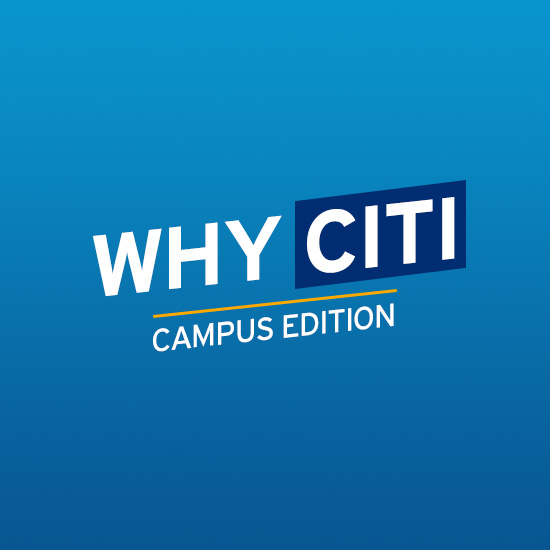 Why you should join us at Citi
Hear about Citi's supportive culture, continuous learning and development, global exposure and work-life integration where you get to bring your whole and best self to work every day.
Learning and Development at Citi – Hear from our Senior Leaders
Our senior leaders share their perspectives on the value of our Analyst/Associate program, and the impact it has had on their learning, development, and career growth.
The Citi Analyst Program
Regardless of your academic background – at Citi, our Analysts have the opportunity to make real impact on our business and clients from the outset. Watch Charmaine's experience as a Psychology graduate in our Analyst program to learn more.